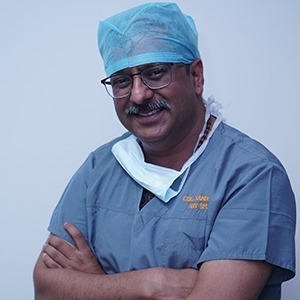 Dr. (Col)Sandeep Karunakaran
MS, PGDHM, PGDMLE
Clinical Head & Fertility Specialist
Dr. Sandeep Karunakaran is a graduate and postgraduate from the prestigious Armed Forces Medical College (AFMC), Pune. He is trained in Human Reproductive Sciences, both in the clinical aspects as well as embryology. Besides this, he is also trained in Cryobiology including Ovarian Cortex Freezing and Pre-implantation Genetic Diagnosis-PGD.
He has a special interest in the integration of the clinical and embryology aspects of IVF and adaptation of Stem cell research into Assisted Reproduction
He has contributed several articles to both national and international journals and chapters to various books.
In his 25 years of service in the Indian Army, he has headed the ART Centre's of the biggest 3 hospitals of Armed Forces Medical Services.
As a professor and examiner of Obstetrics & Gynecology and Reproductive medicine, he adds value to the academic program of Oasis.