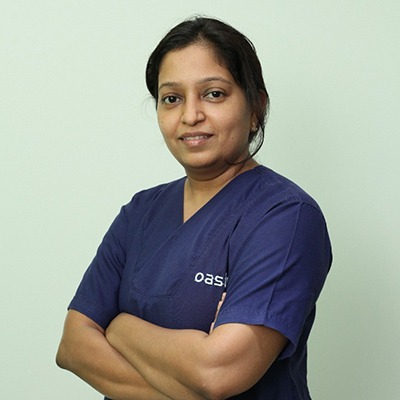 Dr. Prachee Sujay Kulkarni
Dr. Prachee Sujay Kulkarni is an articulate Gynecologist and Infertility Specialist with demonstrated experience of five years in Assisted Reproductive Technology and has shown superior excellence and expertise in Infertility Management. She has extensive experience in handling difficult cases of PCOS, Endometriosis, and Recurrent Implantation Failure.
Dr. Prachee has several successful IUI, IVF/ICSI, and Donor Egg cycles to her credit. She is well-versed with the use of 3D ultrasound and color doppler in infertility. She is renowned for her systematic and meticulous approach towards the procedures she performs and helps in achieving success in the IVF cycle and keeping complications to a minimum.
She is certified with hands-on training in the Human Assisted Reproductive Technology Introductory course in ART conducted by Embryology Academy for Research & Training, India; Embryology and PGD Academy, UK and has also completed Advanced Diploma in Reproductive Medicine and Embryology from Kiel School of Reproductive Medicine, Kiel, Germany.