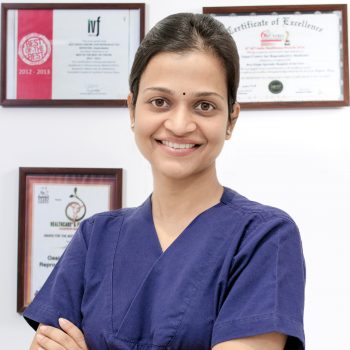 Clinical Head & Fertility Specialist
Dr Sarbjaya Singh is a specialist in reproductive medicine with more than 10 years of vast clinical experience in the fields of Obstetrics, Gynaecology, and Infertility. She is a good team player at Oasis known for her hardworking, co-operative approach with patients setting strong work ethics and inspiring others.
Prior to joining Oasis at Hyderabad, she worked in ESIC (OKHLA) New Delhi for two years as a senior resident after her Post Graduation. During her year-long internship at Dr. B.R. Ambedkar medical college, Bangalore, she learned to manage several types of acute and chronic Surgical, Medical, Obstetrical and Gynaecological patients besides becoming an expert in several types of clinical procedures.
A permanent registered member of Karnataka Medical Council, Delhi Medical Council and Andhra Pradesh Medical Council. She is also a permanent member of World Association of Laparoscopic Surgeons, Society of American Gastrointestinal and Endoscopic Surgeons (SAGES).
She has presented research papers at various International Conferences like the International Congress on Emergencies in Obstetrics, OB-GYAN in 2011, and ACE in 2017.
Dr. Sarbjaya has done her fellowship in Reproductive Medicine from CRAFT Hospital and Research Centre and in this period has been trained in various ART procedures like IUI, IVF-ICSI Scans, Oocytes Pickup, Embryo Transfer, and TESA. She has a Fellowship degree in Minimal Access Surgery from World Laparoscopy hospital, and Da Vinci
Robotic system training module from World Laparoscopy Hospital, Gurgaon.
Educational Qualifications:
MBBS from Rajiv Gandhi University of Health Sciences, Bangalore, India
Post Graduation in Obstetrics and Gynaecology at Sri Devaraj Urs Medical College, Kolar, Karnataka
Diploma in Gynecological Endoscopic Surgery from Kiel, Germany.
FMAS,DMAS at World Laparoscopy Hospital, Gurgaon
Fellowship in Reproductive Medicine from Craft Hospital, Kerala