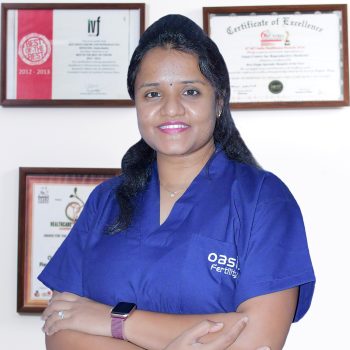 Dr. Sarika Mudarapu is an expert fertility specialist and has expertise in TESA, ICSI, Ovulation Induction, IUI, and IVF procedures. Her special areas of interest include high-risk pregnancies, hysteroscopy, laparoscopy, etc. She has improved patient outcomes with her keen observation skills, commitment, and experience.
Dr. Sarika Mudarapu completed MBBS from Gandhi Medical College and MS (OBG) from Osmania Medical College. She has completed Fellowship in Reproductive Medicine from Ferty9 hospital and has done a Diploma in ART from Kiel, Germany.
Dr. Sarika Mudarapu is very passionate and participates in CMEs, case study discussions, and keeps herself abreast of the latest technologies in infertility treatment. She has many paper presentations and research papers to her credit. Through her competence and skills, she has helped many couples achieve their parenthood dream.
Educational Qualifications:
MBBS from Gandhi Medical College
MS (OBG) from Osmania Medical College
Fellowship in Reproductive Medicine