Electronic Witnessing System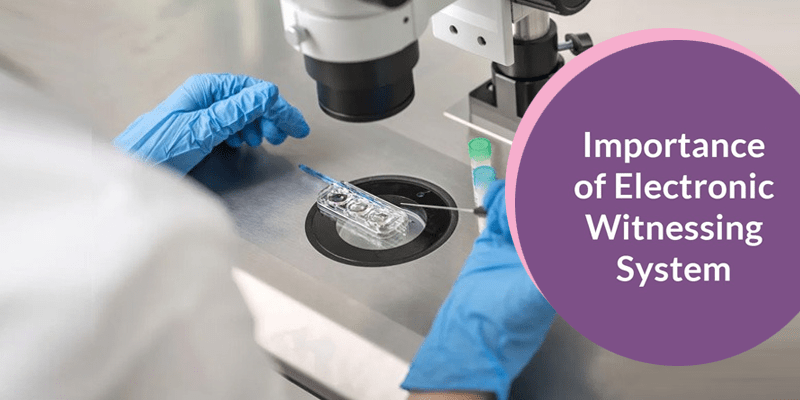 Importance of an Electronic Witnessing System
In the year 2019, a fertility centre in California, US landed in trouble when patients of Asian origin had babies through IVF that were of non-Asian heritage. Upon investigation, it was uncovered that samples of different parents got mixed up and that resulted in mixed-up pregnancies/birth. A similar storyline is seen in the recent 'Good News' wherein the sperm samples were mismatched at a fertility clinic.
Mismatching of Samples can be Devastating
A mismatch can occur at any of the many stages of the IVF procedure. In a fertility clinic where the staff handles a large number of samples on a daily basis, human error cannot be discounted. But IVF is a procedure where a mismatch of samples cannot be excused as the result can have far-reaching implications. The expected parents who went to great lengths to have their own children would have to go through the whole IVF cycle and end up with children that are not their own. The lives of the new-borns also become uncertain. The clinic to experiences a loss of credibility and the trust of people.
Though such occurrences are very rare, it is up to the fertility clinic to make sure that there is zero possibility of mismatches. When you choose Oasis Fertility, you can be 100% sure that mismatches of sample will not occur at any stage of the IVF cycle as we have adopted the Electronic Witnessing System.
Electronic Witnessing System (EWS) To Eliminate Errors
Electronic witnessing system is a top of the end, a latest application used in IVF clinical practices. Oasis is proud that in the year 2019, Oasis Fertility became the first Indian fertility clinic to adopt EWS to completely negate the possibility of sample mismatching. An IVF cycle comprises many steps where the samples are handled and examined. These include sperm collection, egg retrieval, ICSI or insemination, embryo transfer, and more.
Each of these hand-offs are now under an Electronic witnessing system which uses radio frequencies to produce identification tags. These can be used to track and record an individual's information and their samples during the entire process of IVF. At each step of the IVF process, the system identifies, monitors, and records the same. It also tracks any transfers that happen to the gametes and the embryos. Every person is given an identity card that helps to verify the individual and matches it to their gametes and embryos.
Without the Electronic witnessing system, the double-checking method is prone to omission, incompletion, erroneous checking and involuntary mistakes. EWS on the other hand effortlessly performs automatic cross-checking, critical detection, removal of human errors and provides an optimum environment during the process.
Oasis Fertility Brings You the Latest Technology
At Oasis Fertility, EWS is combined with Artis or the Assisted Reproductive Technology Information System. ARTis is a unique web-based software for the monitoring of individuals and biomaterials. It also helps in data archiving purposes. It allows for an accurate and smooth flow, negating any errors and avoiding mishaps.
Thus, at Oasis Fertility, we ensure that nothing goes wrong on your journey to parenthood!