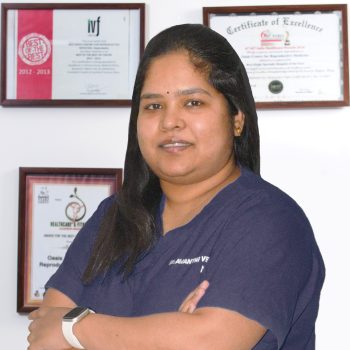 Dr. Avanthi Vellala
Fertility Specialist
Dr. Avanthi Vellala is a fertility specialist and has expertise in treating poor responders and women with recurrent implantation failures. She is well versed in IUI, IVF, and other advanced treatment procedures.
Dr. Avanthi Vellala completed MBBS from Guntur Medical College, Guntur, and MS (OBG) from Dr. Pinnamaneni Siddhartha Institute of Medical Sciences. She obtained a fellowship in reproductive medicine from Swapna Healthcare.
Prior to her association with Oasis Fertility, Dr. Avanthi had worked in Medicover Women and Child Hospital. Through her dedication and competence, Dr. Avanthi Vellala has helped several women with endometriosis, fibroids, and PCOS overcome infertility and attain parenthood.
Educational Qualifications:
MBBS from Guntur Medical College, Guntur
MS (OBG) from Dr. Pinnamaneni Siddhartha Institute of Medical Sciences
Fellowship in reproductive medicine (ICOG)