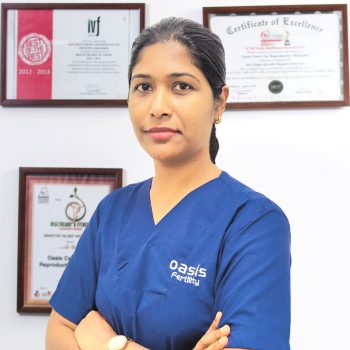 Dr. Gayatri Satpathy
Consultant - Fertility Specialist
Dr. Gayatri Satpathy is an expert in the field of Reproductive medicine and Fertility enhancing surgeries. She has a special interest in repeated implantation failure, male factor infertility and endometriosis. She has enabled several couples to overcome infertility and achieve parenthood through her expertise and commitment.
Dr. Gayatri Satpathy completed her MBBS from Karnataka Institute of Medical Sciences and her MS from Banaras Hindu University. She has to her credit FNB in "Reproductive Medicine" from Madras Medical Mission, Chennai and Fellowship in "Minimally Invasive Gynecological Surgeries" from Apollo Hospital, Hyderabad. She has published 6 research papers in national and international journals and authored chapters in various books. She has presented papers and delivered faculty lectures at various state and national level conferences. She presented the prestigious "Dr Jaideep Malhotra YUVA-ISAR Oration" at 26th Annual conference of ISAR at Mumbai in August 2022.
Prior to her association with Oasis Fertility she worked as a fertility consultant at Nova IVF, Kolkata.
Educational Qualifications:
MBBS from Karnataka Institute of Medical Sciences
MS from Banaras Hindu University
Fellowship in "Minimally Invasive Gynecological Surgeries" from Apollo Hospital, Hyderabad
FNB in "Reproductive Medicine"