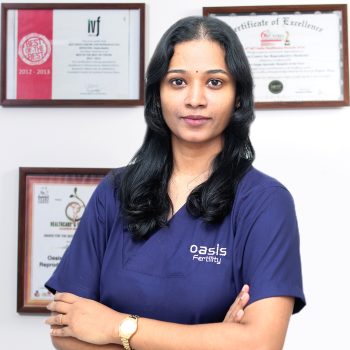 Dr.Hema Vaithianathan
Senior Consultant & Fertility Specialist
Dr.Hema Vaithianathan is an expert in Reproductive Medicine with rich experience and a special interest in Reproductive Endocrinology, Recurrent Implantation Failure, Fertility preservation, etc.
Dr.Hema completed her MBBS and MD (Obstetrics & Gynecology) from Madras Medical College, Chennai. She also completed MRCOG from the prestigious, Royal College of Obstetricians and Gynecologists, London. Dr Hema did her Post-doctoral Fellowship in Reproductive Medicine from SRM, Chennai. She has additional OBG clinical experience from Russell's Hall Hospital- NHS, Dudley, United Kingdom. She has undergone training in Advanced Laparoscopy and Hysteroscopy and has completed a certificate course in Embryology from the American Society of Reproductive Medicine.
Furthermore, Dr.Hema is a member of several prestigious organizations like IFS, ISAR, ASRM, ESHRE, IMA, and a few other OBGYN Societies. She is a very active participant in research activities and conferences and has done paper presentations at international scientific conferences like ASRM, and ESHRE. She has also presented several oral paper and poster presentations at the national level. Dr.Hema is a proud recipient of the ASRM 2019 'Corporate Member Council In-training Travel award' in Philadelphia, USA.
Prior to Oasis Fertility, Dr.Hema worked as a Fertility Consultant at ART Fertility Clinics, SIMS Hospital, and served as Associate Professor in OBG at SMMCH&RI, Chennai. Dr.Hema is very passionate about research and knowledge updates and through her skills, expertise, and rich experience in the field of fertility & IVF, she has helped many couples achieve their dream of parenthood
Educational Qualifications:
MBBS and MD (Obstetrics & Gynecology) from Madras Medical College, Chennai
MRCOG from the prestigious, Royal College of Obstetricians and Gynecologists, London
OBG clinical experience from Russell's Hall Hospital- NHS, Dudley, United Kingdom