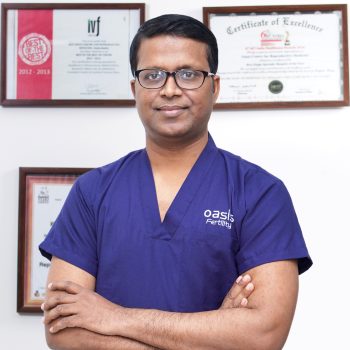 Dr. Prasanta Kumar Nayak
Consultant & Fertility Specialist
Dr. Prasanta Kumar Nayak has diverse experience in the field of Reproductive Medicine. His special competence and areas of interest include Infertility, Management of PCOS & Poor Ovarian Reserve, Endoscopic Surgery and Gynaec Oncology (preventive & operative), etc.
He completed his MBBS from VSS Medical College, Burla, Sambalpur, Odisha, and went on to complete his MD (Obstetrics & Gynecology) from SCB Medical College & Hospital, Cuttack, Odisha. He is trained in Reproductive Medicine (IVF) from AIIMS, New Delhi, and obtained Training Observership in Gynaecological Oncology from AHRCC, Cuttack. He is also trained in Laparoscopic Surgery from SCB Medical College, Cuttack, and is trained in Ultrasonography in O&G, a FOGSI certified course.
Prior to his association with Oasis Fertility, he was associated with Konaseema Institute of Medical Sciences, KIMS, Amalapuram, Andhra Pradesh; Pondicherry Institute of Medical Sciences, Pondicherry; and All India Institute of Medical Sciences, Raipur, Chhattisgarh. He also worked as a Professor in the department of OBG at IMS & SUM Hospital, Bhubneshwar. He has thirty (30) publications and seven (7) research projects to his credit.