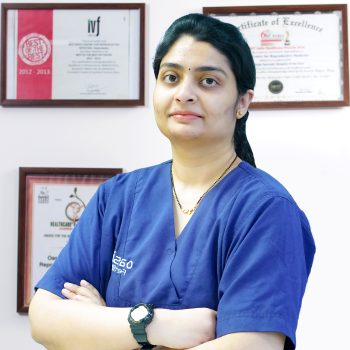 Dr. Spandana is a skilled fertility specialist with hands-on experience in diagnosing and treating infertility in both male and female patients, Sonoendocrinology in infertility, and performing assisted reproductive procedures such as In vitro fertilization (IVF), and Intrauterine insemination (IUI). She also has exposure to managing and helping patients with polycystic ovary syndrome (PCOS), endometriosis, male factor infertility, and other reproductive disorders.
She comes in with an impeccable academic record. She has done her MBBS from Sri Devaraj Urs Medical College, Kolar, Karnataka. She pursued her MS in Obstetrics & Gynaecology from J.J.M Medical College, Karnataka, and passed out with a university rank.
Attributing to her keen interest in helping fertility-challenged couples, Dr. Spandana has completed a fellowship in Infertility & IVF from Dr. Nagori's Institute for Infertility & IVF, Ahmedabad. She also has done a certification course on "Gynaecological Endoscopy" conducted by ICOG. She has a paper to her credit titled "Effect of Maternal Body Mass Index on obstetric outcome" which she has worked on as a dissertation topic during her masters.
Before joining Oasis Fertility Dr. Spandana was associated with Juhi Fertility Centre and Tanvir Hospital as a consultant. She also has experience as an assistant professor at Mamata Medical College, Khammam. To add to her experience she also had her private practice in Khammam.
Educational Qualifications:
ICOG-certified course in critical care obstetrics
Completed FMF India Certified course in Basic obstetric ultrasound
Hysteroscopy from Tulip Institute and laparoscopic training center
Trained in colposcopy from Parimala health care services, Bangalore