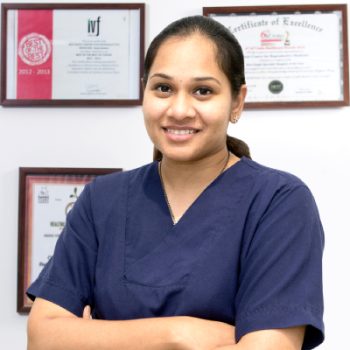 Dr. A Tejashree
Fertility Specialist
Dr. Tejashree is an infertility specialist and an expert in ovulation induction, IUI, IVF, hysteroscopy, etc. Committed to delivering top care to all patients and to providing a comfortable experience during procedures, she has a demonstrated history of improving patient outcomes with accurate and detailed interpretation of patients' conditions.
Dr. Tejashree completed her MBBS from Mamata Medical College, Khammam and went on to obtain her MS (Obstetrics & Gynaecology)  from Saveetha Medical College & Deemed University, Chennai. She also holds advanced diploma in ART and reproductive medicine from Kiel, Germany and Fellowship in Reproductive Medicine at Ferty9 (Fertility and Research Center).
She takes active participation in various academic activities including clinical meetings, journal clubs, seminar presentations and weekly case discussions and has been involved in the teaching program for medical students, paramedical staff and residents. Dr. Tejashree has attended numerous conferences and has case presentations to her credit.
Educational Qualifications:
MBBS from Mamata Medical College, Khammam
MS (Obstetrics & Gynaecology)  from Saveetha Medical College & Deemed University, Chennai
Advanced diploma in ART and reproductive medicine from Kiel, Germany