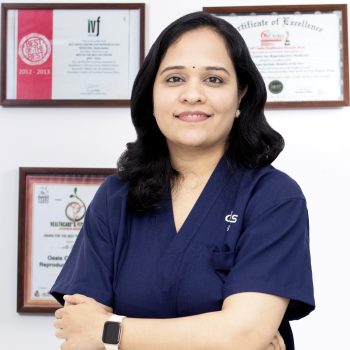 Dr. V Keerthana is an expert in the field of reproductive medicine and has expertise in IUI, IVF, ICSI, and Fertility Preservation. Her keen interest is in the treatment of women with fibroids, premature ovarian failure, adenomyosis, advanced maternal age, etc. Dr. V Keerthana has gifted the joy of parenthood to several couples through her experience and commitment.
Dr. V Keerthana completed her MBBS from Kamineni Institute of Medical Sciences and DNB from St. Theresa Hospital. She has done her FNB Reproductive Medicine from Oasis Fertility and has attended several national conferences. Dr. V Keerthana is very passionate about research and has many research papers to her credit. Dr Keerthana was presented Dr. Kuldeep Jain – Best Clinical Paper Award (< 40 yrs) (Gold Medal) for Best Clinical Paper (< 40 yrs) and Dr. Mangala Telang Best Original Research Paper Award (Gold Medal) for Best Original Research Paper at the 18th Annual Conference of Indian Fertility Society FERTIVISION 2022 and has presented research papers at the prestigious ASRM.
Prior to Oasis Fertility, Dr. V Keerthana worked at St. Theresa Hospital, Govt General Hospital, Nizamabad, and Tirumala Multispecialty Hospital.
Educational Qualifications:
MBBS from Kamineni Institute of Medical Sciences and DNB from St. Theresa Hospital
She has done her FNB Reproductive Medicine from Oasis Fertility