Is the new normal conducive for couples to start their parenthood journey?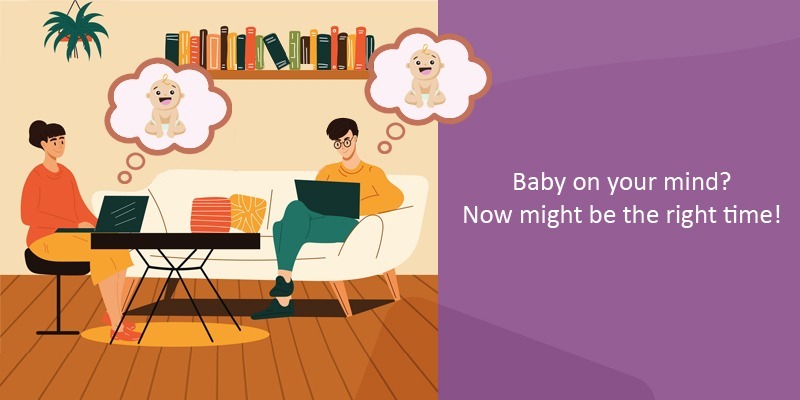 The pandemic was unprecedented and has changed our lives completely. Almost everything has come to a halt. Most of us were running a rat race every day forgetting our family, relationships, hobbies, rest, and sleep. On the one hand, every one of us aspires to live in a pre-pandemic era where we had no fears of roaming around the world without masks and sanitizers. On the other hand, we have started loving the wonderful opportunity of staying with our family due to work from home and other options. Should we call this pandemic a blessing in disguise as most of us have got ''Me'' Time which was virtually non-existent pre-COVID? Lockdown imposed intimacy has led to togetherness and has given space and time for couples to nurture love and affection. Starting a parenthood journey would be a nice idea after all.
The essence of a family is in caring for each other and also creating life. The pandemic and lockdown have brought families closer, especially husband and wife. Both men and women have career aspirations and many other commitments that result in defocusing the concept of having a child. But now as couples have got more time together, it would be a great idea to start a family. Instead of postponing conception, it is better to get soaked in love during this unforeseen situation. Some feel apprehensive regarding pregnancy and the parenthood journey and therefore keep on postponing it. But in the case of women, fertility declines with age. Due to several lifestyle changes, both men and women suffer from infertility problems. When it comes to conception, remember, "the sooner, the better". The couples can have pre-pregnancy counseling and then start their parenthood journey. Fertility specialists can help you with proper diet counseling, medication, and lifestyle changes to put you on track to reach your fertility goals. In fact this the right time to visit Fertility Clinics and seek assistance as you have time on hand and the waiting time is pretty decent.
With job stress and pressure, unable to juggle work and life, couples are unwilling to focus on childbearing. They miss out on something very precious which is mutual love and care. This is the right time to start focusing on the aspect called family.
Our lives have always been too busy to stand and stare and especially no time to enjoy the process of becoming a father or mother. With this lockdown still in place, those who have not been able to become parents for various reasons can unlock their desires now.
Couples need to slow down a bit and dedicate substantial time for themselves and nurture their dream of becoming parents. This phase of life brings in a lot of love, care, and understanding between the couples with a common purpose and commitment. Couples should hit the pause button for a while and focus on bringing a new life to this world.
The hurry-burry world has slowed down. It's time to cherish and nurture our relationships. If we can't do it now when else we can do it? In this scenario of reduced travel, stress, and tension, start thinking about bringing the little bundle of joy into your lives!
Oasis Fertility encourages couples to talk about their fertility issues and take the initiative of becoming parents quite early in life. With state-of-the-art lab facilities and safety COVID protocols in place, Oasis Fertility offers exclusive and safe treatment plans for those seeking support and guidance in conception.
Now is the right time to foster your progeny!