Motherhood Dreams of a Women With Borderline Ovarian Tumours Come True at Oasis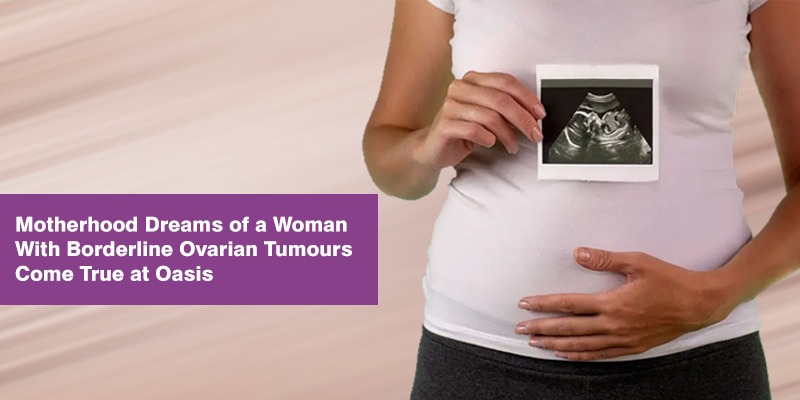 Three years into her marriage, Varsha's desires of motherhood were slowly getting further and further away. She was diagnosed with borderline ovarian tumours and had undergone a left-sided salpingo-oophorectomy (removal of left ovary and fallopian tube) and right ovarian cystectomy.
Borderline ovarian tumour are abnormal cells that grow in the tissues covering the ovary and are largely low-malignant tumours accounting for 10-15% of all ovarian tumours. They tend to grow slowly and in a more controlled manner than other cancerous cells. Also, the chances of these becoming malignant and recurring after treatment remain comparatively low.
Largely affecting women in their reproductive age group of 20-40, this was the condition that made it difficult for Varsha to bear children and fulfil her motherhood dreams.
Detected in the course of a routine examination, or incidentally, these tumours can be treated with cystectomy, oophorectomy (removal of the ovary) and or a unilateral salpingo-oophorectomy (removal of the ovary and fallopian tube).
Even with a single functional ovary with a healthy fallopian tube, there should be no measurable change in your fertility.
Depending on the condition of the tumour, fertility preservation (saving or protecting eggs) is performed prior to excision of the affected organ, to later proceed with assisted reproductive treatments. In cases, where a bilateral oophorectomy (removing both the ovaries) has to be performed, then a hormone replacement therapy would be needed.
In addition to borderline ovarian tumour, Varsha had a low AMH score (determining a woman's ability to produce eggs for fertilization) further hampering her chances of conceiving. At this juncture, she was referred to Oasis Fertility Clinic by her gynaecologist. Following a comprehensive set of tests, a personalized treatment plan was formulated for Varsha.
Given that she had begun to develop cysts in her right ovary as well, the doctors decided to retrieve her oocytes first and then performed an oophorectomy (removal of the ovary), without disturbing the uterus.
She was placed on hormone replacement therapy and doctors offered her a few options of conceptions. Given that she had good quality embryos, she opted for embryo transfer method of assisted conception. A single embryo transfer became successful and she conceived & eventually delivered a baby boy.
Thus, with personalized treatment, expert guidance, and irrepressible will on the part of the individual, Varsha fulfilled her motherhood dreams at Oasis Fertility.