21 EXCITING WAYS OF PREGNANCY ANNOUNCEMENT TO HUSBAND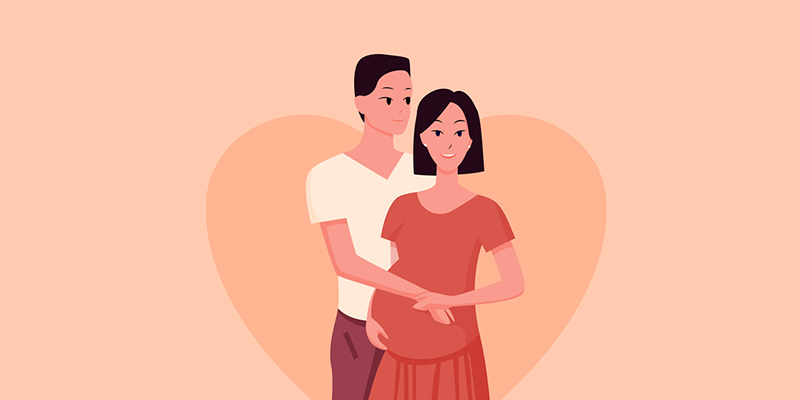 Getting pregnant is one of the most beautiful experiences of life and breaking the news to your husband can be even more exciting, thrilling, and of course, the best moment that will stay in your heart forever. Check out some pregnancy reveal ideas.
1. Reveal it with Cakes:
Bake cupcakes or order a cake with "I'm pregnant" on it. It can be a sweet surprise.
2. Dinner Date:
This will be more fun. Take your spouse for a dinner date and reserve three seats for the dinner. Get the staff of the restaurant reveal the happy news to your spouse with a cake and congratulatory messages.
3. Go for a Photo shoot:
Plan for a photo shoot with friends or family and reveal the news in front of all with a countdown. Capturing your hubby's surprise, shock and happiness will be a lifetime treasure.
4. Say it with Baby Shoes:
Order cute little shoes and get them delivered to your hubby's office.
5. Say it with a customized Bowl:
Reveal the good news to your partner by having a cup of cereals in a customized bowl indicating "I am eating for two".
6. Say it the old-school way:
If you and your partner are someone, who like to keep things simple yet memorable, the classic "We're Pregnant" has its own charm.
7. Gift wrap the positive pregnancy test:
There's nothing that could go wrong with surprises. Send a gift box to your partner with your positive pregnancy test strip inside.
8. Buy him a book on parenthood:
If your husband is inquisitive, likes to stay on top of things, and loves books then, what better way than a book on parenthood to announce, "We are going to be mom and dad".
9. Decorate your room with baby pictures:
Flood your room with balloons and cover every nook with baby pictures before he comes home from work.
10. Go shopping:
Ask your husband to take you shopping and surprise him by purchasing baby clothes.
11. Involve your kids:
Conspire with your kids and plan a surprise for your husband to say that "we are going to be more in number soon".
12. Add an extra plate/chair:
They say the family comes together at a dining table. Add an extra small plate or a baby chair with a note on top announcing your pregnancy.
13. Channel your inner poet:
Write a sweet poem for your spouse about your pregnancy. It could be a small and simple one.
14. Plan a treasure hunt:
If you are an adventure-loving couple, plan a treasure hunt. Scatter the clues and let your husband find the clues. The final clue should be something that says you're pregnant.
15. Daddy Onesie:
Baby clothes are cute. Gift your husband a onesie with a custom-made message that says the arrival of a cute member in your family.
16. Write a letter:
Letters are old school, yet a beautiful way of communication. If your husband is away, write him a letter about your happy news and post it.
17. Make a reel:
Following the trend of social media make a reel with him and capture his reaction when you tell him you are pregnant.
18. Customized gifts:
Get a gift of your choice, like a keychain with a customised pregnancy message to gift your husband.
19. Reveal with the scan:
This reveal is going to be special and creative. Hang your sonogram scans with the help of balloons in your room for your husband to find them.
20. Celebrate it with a family get together:
Plan for a family dinner and surprise your family with a big reveal. The more, the merrier it's going to be.
21. Fur baby messengers:
If you have dogs as pets, these fluffy beings are the cutest messengers for such a special message. Hang a chalkboard with your message or, make a customised dog onesie that says you are pregnant.
There are 100s of pregnancy announcement ideas as it is one of the most unforgettable life events. Cherish it. Love it! Happy Parenthood!