"It is better late than never" Success Story of Nisha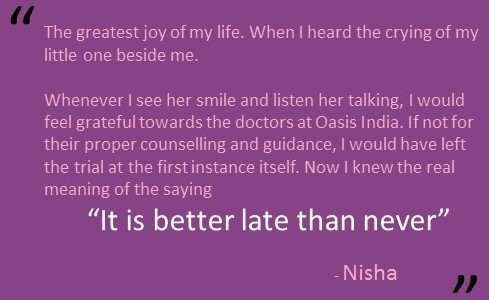 It is better late than never
Building my career was my ultimate aim on those days. I could not agree with the idea of getting married, when my parents brought so many proposals. I was flying high then and was longing to reach at new heights in my career.
In the road to success I met Rohan, who was also ambitious. The relation started between two birds of same feather ended up in marriage. We had the blessings of both the families. Even after marriage, both of us concentrated more on our career.
Work extending to extra hours limited our meetings to weekends, even then we have nothing to think about except the challenges waiting for us in the coming week. Days have passed and months. Even after five years of our marriage we have not blessed with a child. As in the case of any other conservative family, we too had to face many questions from our friends and relatives. When the pressure is excess, it is quite natural for anybody to get rid of it. In order to fulfill their desire we decided to rearrange our schedule. To be honest, it was since then we really started enjoying a family life.
When you used to softness, you can never withstand rough realities of life and that was what happened to me. When there was no sign of conception even after two years, we went to Oasis India and consulted the doctor. There I got the first shock in my life when they told me that I cannot conceive naturally due to Polycystic Ovary Syndrome. If I went to some other hospitals, I would have broken with that news, but the doctors at Oasis India were very friendly and dealt with care.
They explained me about the problem in detail and informed me that I am not alone in this world, but about 20% of the working women are facing this type of problem. They helped me to regain my confidence. They counseled Rohan too. He was very supportive and we finished our first course of fertility treatment. Unfortunately it did not fetch any result.
When the third attempt also failed, both of us started worrying. We even lost our confidence. We tried to convince ourselves that we have the curse of almighty on us and hence cannot fulfill the desire of parenthood. We have decided to stop trying and we went to the hospital to inform them. However, friendly approach of the doctor shot up new hopes in us and agreed to undergo one more course.
To the surprise of all of us, it did work. I conceived. However, the doctors from Oasis did not stop extending their service. They were with us providing us proper guidance and instructions, which followed without fail. At last, as I was slowly relieving from the influence of anesthesia, I heard the crying on my little one beside me. The greatest joy of my life, I enjoyed at that moment.
Now she is studying in nursery and is very healthy and active. Whenever I see her smile and listen her talking, I would feel grateful towards the doctors at Oasis India. If not for their proper counselling and guidance, I would have left the trial at the first instance itself. Now I knew the real meaning of the saying "It is better late than never". Thank you Oasis.
Nisha