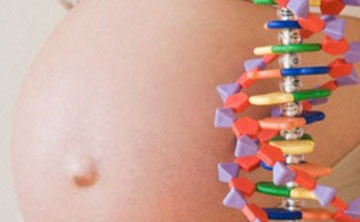 Nazia, 42 years old and Sultan 47 years old with 17 years of marriage and history of 2 miscarriages and 4 failed IVF cycles, were referred to Oasis by an Infertility Specialist. We did 3 stimulations and pooled up 8 embryos. PGS was done on these pooled embryos. 2 embryos came back normal and were transferred in to Nazia.
Nazia and Sultan got their prayers answered. It was a successful pregnancy. They now have their own genetic child.
Finding Answers
After having a history of 2 miscarriages and 4 failed IVF cycles, Nazia knew something was very wrong! That's when they were referred to Oasis by another infertility clinic.
Looking at the age, poor ovarian reserve for Nazia and failed IVF history, oocyte donation option was explained but the couple was reluctant to opt for Donor treatment.
As a second option, again as the ovarian reserve was very low, minimal stimulation IVF and embryo pooling was offered. To find the answers for failed IVFs in past, Pre Genetic Screening was offered to couple.
As it was a natural IVF cycle with low stimulation, we could retrieve and pool up 8 embryos in 3 cycles. The 8 embryos were biopsied and pre genetic screening was carried out.
The night before the transfer, the couple was told that that six out of eight embryos had been tested using PGS and that all of them were abnormal. They were almost losing hope but as every cloud has a silver lining, on the morning of transfer the couple was called and told that we were going to proceed with the transfer. The screening found that 2 embryos were normal and were transferred in to Nazia.
"And That Right There is the Heartbeat"
Then came the dreaded "two week wait"! Nazia came for her blood tests two weeks later. When the nurse called with her results of a positive test, the couple was cautiously excited. Nazia had been through positive pregnancy tests two times prior. So the next few weeks were excruciating. At just around six weeks, Nazia and Sultan came in for the sonogram.
During the exam, Nazia kept seeing this little "blip" on the screen. Finally the doctor said "And that right there is the heartbeat!" That's when everything hit the couple. They had never seen a heartbeat with any of the prior pregnancies. After ten weeks Nazia graduated to her regular Obstetrician.
Nazia and Sultan now have an six months old little "man"!
Nazia and Sultan's Advice to Other Patients
Miracles do happen! It is an extremely emotional and difficult process, but the result is totally worth it! "While I wouldn't wish on anyone what my husband and I went through, it certainly made us appreciate our son more than we would have if pregnancy had come "easily" for us!