Laparoscopic Myomectomy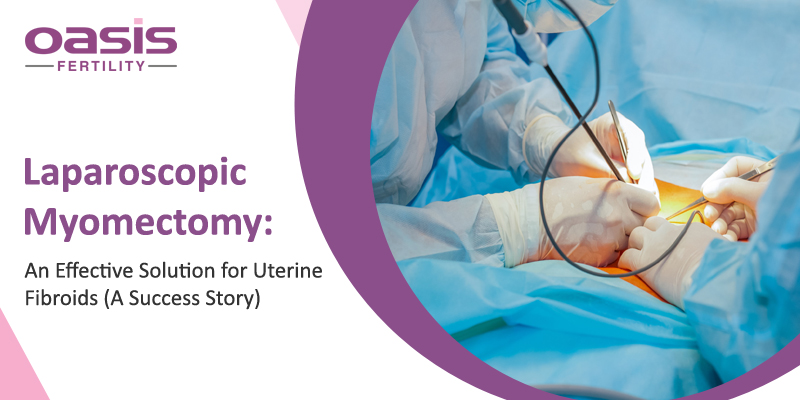 Look beyond uterine fibroids and achieve your dreams of parenthood: a success story from Oasis Fertility
Many couples are able to cope up with infertility, but for some of them their journeys are long and they often wait in the hope of starting a family, which takes a toll on their emotional and psychological well-being. It is said that, challenges are meant to be met and overcome and this holds true for the field of reproductive medicine, which helps many couples achieving their dreams of parenthood.
Pooja a 39-year-old woman and her 47-year-old husband, Dinesh were married for 14 years were desperate to start a family of their own. Over the years, they had tried several fertility treatments, but were unsuccessful, until they had visited the Oasis fertility center in Pune and met our fertility specialist, Dr Nilesh Unmesh Balkawade. The couple had a history of multiple failed fertility treatments.
During a medical review, the doctors found out the presence of uterine fibroids, which were large in size. In view of her advanced age and low AMH, a treatment plan was formulated, where the fibroids had to be excised off first. However, her husband's semen parameters were normal.
Uterine fibroids are common benign tumours of the female reproductive tract. It usually occurs in 20-40% of women during their reproductive years. The recent trend suggests that, there is a tendency to delay conception to a later age, which increases the incidence of fibroids. Uterine fibroids are detected in a small but significant number of infertile women.
Often, fibroids can be asymptomatic and can be undiagnosed for a long time. However, sometimes they cause numerous symptoms such as heavy menstrual flow, painful periods, feeling fullness in the lower abdomen, frequent urination and pain during intercourse.
Fibroids are classified depending on their location in relation to the layer of the uterus (subserous, intramural and submucous). The management of uterine fibroids, can be approached medically, surgically, and even by minimal access techniques. The type of surgery and the interval till the next pregnancy will depend on the number, type and size of the fibroid.
What is myomectomy?
Myomectomy is a preferred surgical intervention to remove the fibroids while preserving the uterus. For women with fibroids and infertility, surgery is often suggested to improve the chances of pregnancy after a myomectomy. For fibroids which are present on the wall of the uterus or outside the uterus, they can be efficiently removed through a laparoscopic myomectomy.
Is pregnancy possible after a myomectomy?
In most cases pregnancy is possible after a myomectomy. As the chances depend on the age of the woman, the number, size and location of fibroids and other associated factors. The recovery time for a laparoscopic myomectomy is 1-2 weeks.
In Pooja's case, first an egg retrieval was done and later a laparoscopic myomectomy was performed. After a month of recovery, a frozen embryo transfer cycle was started and two good quality embryos were transferred. The treatment was successful and she conceived.
They were blessed to get a positive result in the first cycle, the pregnancy is progressing without any further complications and she is now in her second trimester.
The couple expressed their sincere gratitude towards Dr Nilesh Balkawade & Oasis Fertility for this much awaited success.
Dr Nilesh Unmesh Balkawade, is an IVF Specialist in Wakad, he offers a decade-long distinctive experience and expertise in the fields of Infertility, Reproductive Medicine, and Gynaec endoscopy. Dr Nilesh is renowned for handling infertile cases with a good success rate and spreading the joy of parenthood to many couples with his expertise & compassionate care.
If you are concerned about uterine fibroids, and want to learn more, our fertility specialists will help you in increasing your chances of conception.