Add-ons in IVF – Is it the elephant in the room?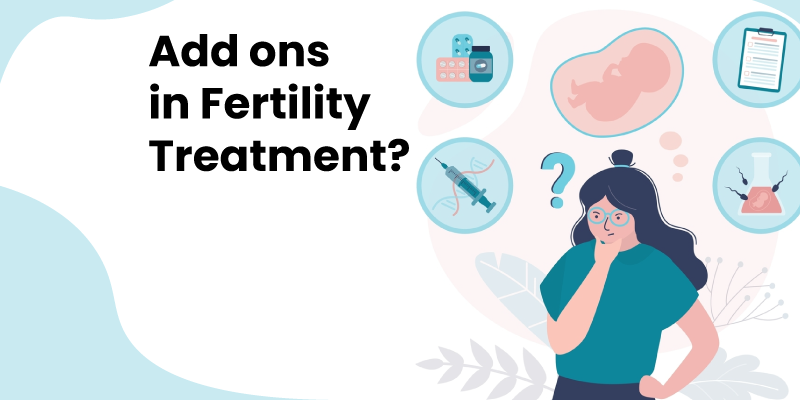 Author: Dr Durga G Rao, Co-founder & Medical Director, Oasis Fertility
The fertility industry is still in a nascent stage. With just 45 years since the first IVF baby in 1978, today we witness about 40-50% success rate. IVF is a very difficult decision for any couple as there is no clear-cut formula for IVF success and the couple has to go through a lot of ifs and buts, ups and downs physically, financially, and emotionally. It's not like any other medical treatment wherein everyone in the process is quite sure of everything that will happen. On the one hand, the patient is very anxious and scared about what she has to go through and on the other hand, the doctor has to handle too much pressure. Both the patient and the doctor have to go through a rough patch till the time all their efforts, treatment protocol, and patience yield a positive result. When coming to terms with a standard fertility treatment is already a huge concern for the patient, Add-ons can be a lot more intimidating.
What are Add-ons?
Add-ons are mostly introduced in the treatment cycle over and above the routine procedure. They could be just anything including Tests, Medications, Equipment, Alternate Therapy, Laboratory Interventions, Surgical Interventions, etc.
Why Add-ons?
Add-ons are recommended to
– Improve implantation rates
– Reduce miscarriage
– Help women to conceive in the shortest time
When are add-ons recommended?
– Repeated Implantation Failure
– Recurrent pregnancy loss
– Poor Ovarian Reserve
– Women with advanced age
Add-ons – Do they really create the magic?
The major challenge when it comes to Add-ons is to decide for whom it has to be recommended. For instance, not all require Hysteroscopy. Not every patient needs an ERA test. There are several Add-ons recommended such as Sperm activation, Time-lapse Imaging, PRP, Uterine Flushing, Stem cell mobilization, Embryo glue, Endometrial Scratch, Mitochondrial replacement therapy, Antioxidant therapy, Artificial Oocyte Activation, Genetic Testing, Growth Factor Supplementation, Assisted Hatching and so on and so forth. We are not sure if the add-ons are really necessary and if they improve the outcomes at all.
HFEA (Human Fertilisation & Embryology Authority) has created a traffic light-based rating for a list of add-ons. For instance, a green rating indicates that the add-on is effective and can improve the chances of conception, an amber rating indicates that there is conflicting evidence from RCT whereas a red rating indicates that there is no evidence to prove that the add-on is effective.
We are "unsure" of the outcomes in most of the scenarios. But that doesn't mean that we need to abandon Add-ons completely just because we don't have concrete answers. We need clarity on who needs what. Clinicians themselves don't know either the efficacy or the side effects of most of the procedures as this is one of the youngest fields of medicine. The truth is "we don't know enough".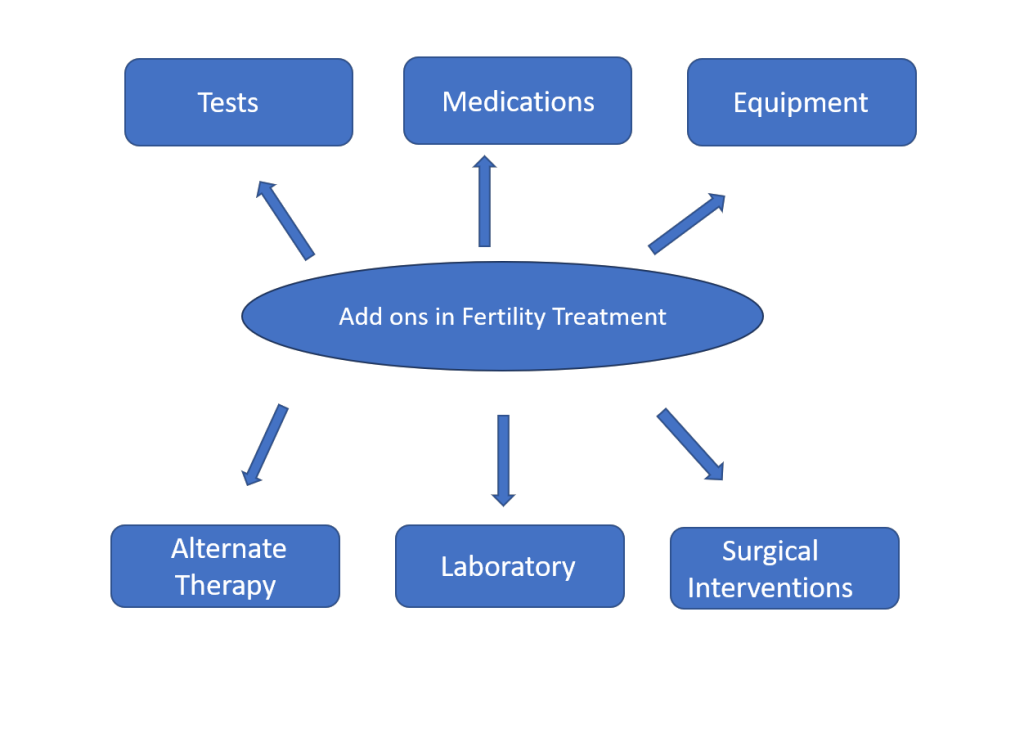 When can Add-ons be considered?
– If the risk is minimal especially in the unborn child
– If it is cost-effective
– If it can deliver physiological or psychological benefit
– If informed consent can be given
The Clinician's Dilemma:
The clinician has to choose between the devil and the deep sea as most of the time there are no clear-cut solutions or definite answers. The evidence is almost always ambiguous and hardly any research papers can be considered the Bible for treatment as the studies are usually heterogenous, biased, include small numbers and very few randomized controlled trials.
Even if the doctor wants to implement the solutions as suggested by the research paper, again there is a dilemma as to how much of it is relevant in the Indian context as there are differences in terms of ethnicity, environment, gene profiling, nutritional status, metabolic functioning, etc. Can the results of the study that was done on a different population, in a different geographical setting applied to the Indian population?
We should also know that a lack of evidence doesn't translate to a lack of effectiveness. It simply means that we need studies that are:
– Well designed
– Adequately numbered
– Based on a homogenous cohort
– Double blinded
– Ethnically relevant
– Focused on a defined outcome &
– Not pharmaceutically sponsored
Also, there is rapid commercialization in the fertility industry and revenue has become the major focus in most of the ventures. The patient wants the entire treatment to be over within a fixed package. The clinician has no liberty to suggest the necessary add-ons keeping in mind the cost factor. But when an add-on is recommended during the second cycle, the patients are unhappy as it was not suggested previously. There are some set of patients who just demand a particular treatment which might not be necessary from the clinician's point of view. Again, the clinician is in a catch-22 situation.
Should we embrace new means of counselling………..
– Should counsellors discuss the options and give in-depth counseling after initial counseling by the doctor?
– Should the doctor give a written document but there is a possibility that the patient will never try to read…..
– Should they be provided with medical articles to reiterate the evidence for their conviction?
Utopia:
– We need research to be conducted without any bias
– Conclusions should not be made based on the studies that have not met specific criteria
– Guidelines need to be created based on validated, low bias, adequately numbered, and well-designed studies
– Large fertility societies/organisations should conduct studies in our country that are double blinded, adequately numbered, ethnically and geographically relevant
– Studies need to be peer-reviewed after blinding the authors, institution and country to control publication bias
– A certified bio-statistician needs to validate all published studies
ART is still an evolving science and it's the clinician's discretion, patient's trust and hope till we really get to say this is what needs to be done confidently with proven evidence.