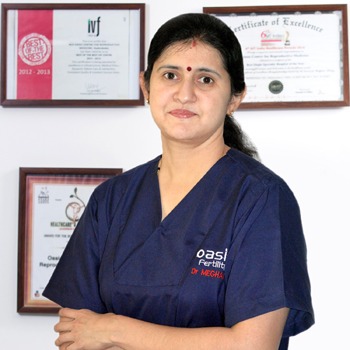 Clinical Head & Fertility Specialist
Dr. Meghana Nyapathi is a Reproductive Medicine specialist who is well-versed in the management of all aspects of infertility like polycystic ovarian syndrome, poor ovarian reserve, endometrial pathology, fertility preservation and male infertility. Her areas of special interest include management of women with polycystic ovarian syndrome and endometrial pathology.
Dr. Meghana completed her MBBS from Dr. BR Ambedkar Medical College, Bangalore and went on to complete her Master of Surgery in Obstetrics and Gynaecology (MS-OBG), from Sri Devaraj URS Medical College (SDUMC), Kolar. She obtained her Fellowship in Reproductive Medicine from CIMAR, Cochin and is a Certified Indian Menopause Practitioner (CIMP).
Prior to her association with Oasis Fertility, Dr. Meghana was Consultant - Reproductive Medicine at Milann Fertility Centre. She has been actively involved in teaching post doctoral fellowship students and doctors from various parts of India and abroad. She has given presentations at various seminars and contributed chapters in books on infertility.