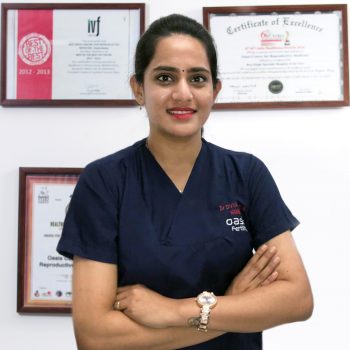 Dr. Nambala Divya Sahitya
Dr. Nambala Divya Sahitya is an expert clinician adept in reproductive medicine and assisted reproductive technique. Her primary areas of interest include reproductive medicine, minimal access surgery, and vaginal rejuvenation.
She completed her MBBS from GSL Medical College and General Hospital, NTR University of Health Sciences, Vijayawada. She went on to obtain her MS in Obstetrics & Gynaecology from Aarupadai Veedu Medical College and Hospital, Puducherry.
During her professional career, Dr. Divya conducted numerous vaginal deliveries, vacuum-assisted / forceps assisted vaginal deliveries, Caesarean sections, and Postpartum sterilizations. She has also performed many abdominal hysterectomies and vaginal hysterectomies, assisted abdominal and vaginal hysterectomies, tubal recanalization procedures, exenteration procedures, vaginoplasty, and metroplasty.
Prior to her association with Oasis Fertility, she was associated with King George Hospital, Visakhapatnam, Care Hospitals, Visakhapatnam. In addition to attending various workshops in the fields of her expertise and paper presentation at the national and international level, Dr. Divya also has several research publications to her credit.