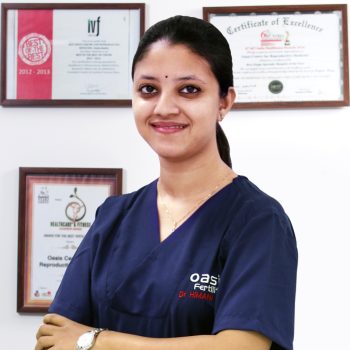 Consultant – Fertility Specialist
Dr. Himani R Patel is an expert infertility consultant expert in assisted reproductive techniques. She comes in with close to decade of experience in her fields post her bachelor degree. Her areas of expertise include obstetric as well as gynaecology, IUI, ovum pick up and Embryo transfer.
She completed her MBBS from Baroda Medical College in 2011. She went on to obtain MS in Obstetrics & Gynaecology from SSG Hospital, MS University, Vadodara, Gujarat. She is also a Senior Resident in Obstetrics & Gynaecology from the same reputed institute.
Prior to her association with Oasis Fertility, Dr. Himani was associated with SSG Hospital and Gopal Fertility and Reproductive Health Centre.